Earn FREE coins in the Coin Store with Tapjoy!

Did you know you can earn FREE FIFA World Cup Coins? By simply completing Special Offers from Tapjoy or by Watching Videos you can increase your FIFA World Cup Coin balance!
Head to the FIFA World Cup Store in the app and navigate to the Coin Store. At the top of the Coin Store tap the link that says "EARN COINS":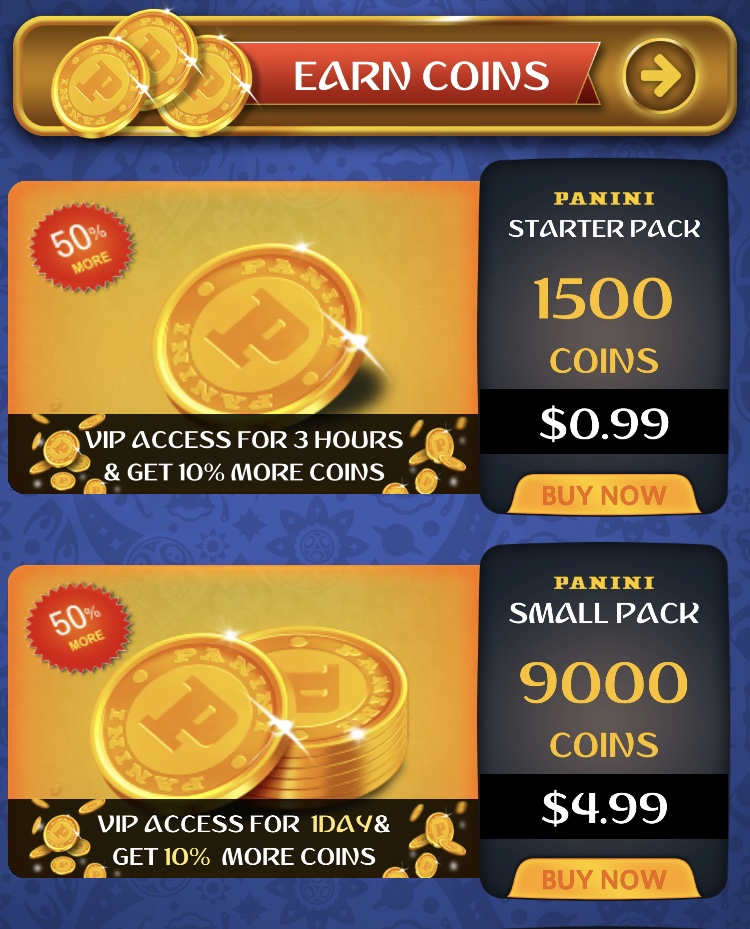 You will be directed to the Offers page which allows you to either Watch Videos or complete special offers on the Tapjoy Offer Wall to earn FREE coins.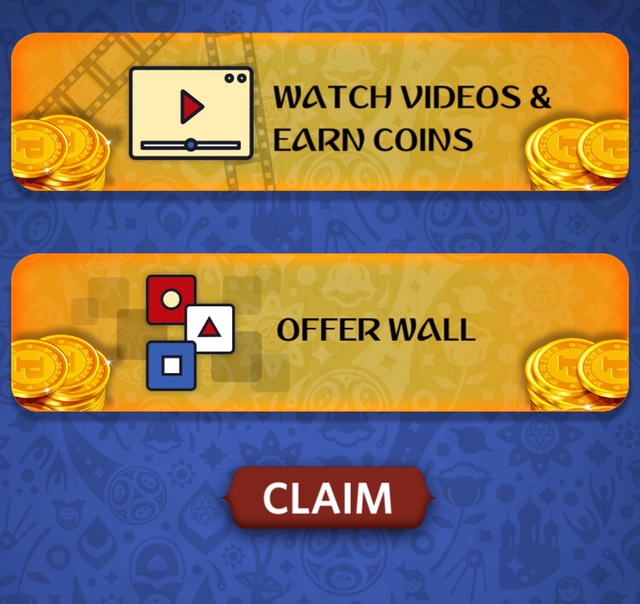 If your app says "No Videos Available", simply visit the Tapjoy Offer Wall and then navigate back to the Watch Videos button. Your videos should be ready for you when you come back to the Offers page. If the Offer Wall gives you a message saying "No Offers Available", please try again as the Tapjoy Offer Wall sometimes needs a bit of time to find special offers suited especially for you.
After successfully completing the Special Offer or watching your video. You can then hit the CLAIM button on the Offer page to get your Coins!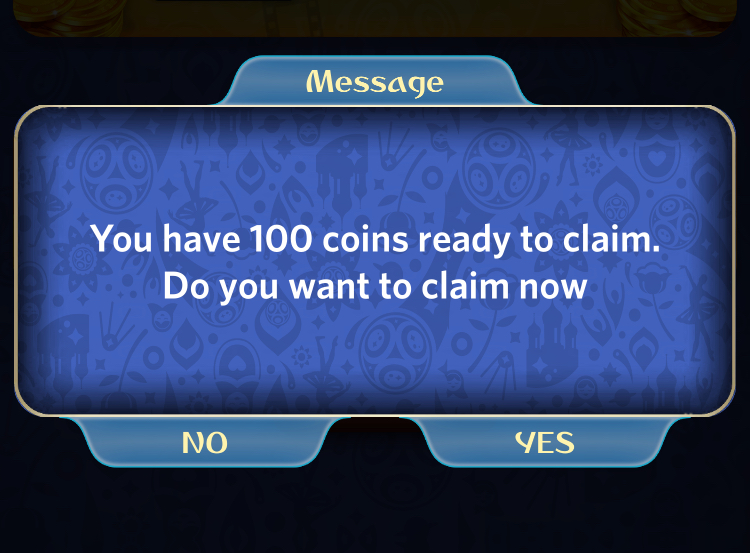 Please note, some Special Offers may take longer to verify than others, so some Tapjoy Offer Wall coins may not immediately be available to claim. Check back often to see when they are available.
You can also check the status of your FREE coins on the Offer Wall page by clicking the Menu in the upper left hand corner of the Offer Wall page and clicking "Reward Status".
---
¡Gana monedas GRATIS en la tienda de monedas con Tapjoy!
¿Sabía que puede ganar monedas de FIFA World Cup GRATIS? ¡Simplemente completando Ofertas Especiales desde Tapjoy o Mirando Videos puede aumentar su saldo de Monedas de la Copa Mundial de la FIFA!
Dirígete a la tienda de la Copa Mundial de la FIFA en la aplicación y ve a la Tienda de Monedas. En la parte superior de Coin Store, toca el enlace que dice "GANAR MONEDAS":
Se lo dirigirá a la página de Ofertas que le permite ver videos o completar ofertas especiales en el muro de ofertas de Tapjoy para ganar monedas GRATIS.
Si su aplicación dice "No hay videos disponibles", simplemente visite el muro de ofertas de Tapjoy y luego vuelva al botón Ver videos. Sus videos deben estar listos para usted cuando regrese a la página de Ofertas. Si el muro ofrece un mensaje que dice "No hay ofertas disponibles", inténtelo de nuevo, ya que el Muro de ofertas de Tapjoy a veces necesita un poco de tiempo para encontrar ofertas especiales adaptadas especialmente para usted.
Después de completar con éxito la Oferta especial o ver su video. ¡Luego puede presionar el botón RECLAMAR en la página Oferta para obtener sus Monedas!
Tenga en cuenta que algunas Ofertas Especiales pueden demorar más tiempo en verificarse que otras, por lo que es posible que algunas Monedas de Tapjoy Offer Wall no estén disponibles de inmediato para reclamar. Vuelve a menudo para ver cuándo están disponibles.
También puede verificar el estado de sus monedas GRATUITAS en la página Pared de ofertas haciendo clic en el Menú en la esquina superior izquierda de la página Pared de ofertas y haciendo clic en "Estado de recompensa".
---
Ganhe moedas GRÁTIS na loja de moedas com Tapjoy!
Você sabia que você pode ganhar as moedas FREE FIFA World Cup? Ao completar as Ofertas especiais da Tapjoy ou ao assistir vídeos, você pode aumentar o seu saldo da moeda do Campeonato do Mundo da FIFA!
Dirija-se à Loja da Copa do Mundo da FIFA no aplicativo e navegue até a loja de moedas. No topo da loja de moedas, toque no link que diz "EARN COINS":
Você será direcionado para a página Ofertas que permite que você assista vídeos ou complete ofertas especiais no Tapjoy Offer Wall para ganhar moedas LIVRES.
Se o seu aplicativo diz "Não há vídeos disponíveis", basta visitar o Tapjoy Offer Wall e, em seguida, navegar novamente para o botão Watch Videos. Seus vídeos devem estar preparados para você quando você voltar para a página Ofertas. Se o Muro da Oferta lhe apresentar uma mensagem dizendo "Não há ofertas disponíveis", tente novamente, pois o Parabens da oferta do Tapjoy às vezes precisa de um pouco de tempo para encontrar ofertas especiais adequadas especialmente para você.
Depois de concluir com êxito a Oferta Especial ou assistir seu vídeo. Você pode então acertar o botão CLAIM na página Oferta para obter suas Moedas!
Por favor, note que algumas Ofertas especiais podem demorar mais para verificar do que outras, então algumas moedas de parede da oferta de Tapjoy podem não estar disponíveis imediatamente para reivindicar. Volte sempre para ver quando eles estão disponíveis.
Você também pode verificar o status de suas moedas LIVRES na página da Muralha da Oferta clicando no Menu no canto superior esquerdo da página da Muralha da Oferta e clicando em "Status da Recompensa".
---
Gagnez des pièces GRATUITES dans le magasin de pièces avec Tapjoy!
Saviez-vous que vous pouvez gagner gratuitement des pièces de la Coupe du Monde de la FIFA? En remplissant simplement les offres spéciales de Tapjoy ou en regardant des vidéos, vous pouvez augmenter votre solde de la Coupe du Monde de la FIFA!
Dirigez-vous vers le magasin de la Coupe du Monde de la FIFA dans l'application et accédez au Coin Store. En haut du Coin Store, appuyez sur le lien "EARN COINS":
Vous serez redirigé vers la page Offres qui vous permet soit de regarder des vidéos, soit de compléter des offres spéciales sur le Tapjoy Offer Wall pour gagner des pièces GRATUITES.
Si votre application indique "Aucune vidéo disponible", rendez-vous simplement sur le mur d'offres Tapjoy, puis revenez au bouton "Regarder des vidéos". Vos vidéos doivent être prêtes pour vous lorsque vous revenez sur la page Offres. Si le mur d'offres vous donne un message indiquant «Aucune offre disponible», veuillez réessayer car le mur d'offres Tapjoy a parfois besoin de temps pour trouver des offres spéciales adaptées à vos besoins.
Après avoir complété avec succès l'offre spéciale ou visionné votre vidéo. Vous pouvez ensuite appuyer sur le bouton CLAIM sur la page Offre pour obtenir vos pièces!
Veuillez noter que certaines Offres Spéciales peuvent prendre plus de temps à être vérifiées que d'autres. Certaines pièces Tapjoy Offer Wall peuvent donc ne pas être disponibles immédiatement. Revenez souvent pour voir quand ils sont disponibles.
Vous pouvez également vérifier l'état de vos pièces GRATUITES sur la page Mur d'offres en cliquant sur le menu dans le coin supérieur gauche de la page Mur d'offres et en cliquant sur "Statut de récompense".
---
Verdiene KOSTENLOSE Münzen im Coin Store mit Tapjoy!
Wusstest du, dass du KOSTENLOSE WM-Münzen gewinnen kannst? Durch das Ausfüllen von Sonderangeboten von Tapjoy oder durch das Ansehen von Videos können Sie Ihre FIFA WM-Münzguthaben erhöhen!
Gehen Sie in der App zum FIFA World Cup Store und navigieren Sie zum Coin Store. Tippen Sie oben im Münzspeicher auf den Link "MÜNZEN ERHALTEN":
Sie werden auf die Seite Angebote weitergeleitet, auf der Sie entweder Videos ansehen oder spezielle Angebote auf der Tapjoy-Angebotswand ausfüllen können, um KOSTENLOSE Münzen zu verdienen.
Wenn Ihre App "Keine Videos verfügbar" anzeigt, besuchen Sie einfach die Tapjoy-Angebotswand und navigieren Sie dann zurück zur Schaltfläche "Videos ansehen". Ihre Videos sollten für Sie bereitstehen, wenn Sie auf die Angebotsseite zurückkehren. Wenn die Angebotswand Ihnen die Nachricht "Keine Angebote verfügbar" gibt, versuchen Sie es bitte erneut, da die Tapjoy Angebotswand manchmal ein wenig Zeit benötigt, um spezielle Angebote zu finden, die speziell für Sie geeignet sind.
Nach dem erfolgreichen Abschluss des Sonderangebots oder dem Ansehen Ihres Videos. Sie können dann den CLAIM-Button auf der Angebotsseite drücken, um Ihre Coins zu erhalten!
Bitte beachten Sie, dass einige Sonderangebote länger dauern können als andere, so dass einige Tapjoy-Angebot-Wall-Coins möglicherweise nicht sofort zur Verfügung stehen. Schaue regelmäßig zurück, um zu sehen, wann sie verfügbar sind.
Sie können den Status Ihrer KOSTENLOSEN Münzen auf der Seite Angebotswand auch überprüfen, indem Sie oben links auf der Seite Angebotswand auf das Menü klicken und auf "Prämienstatus" klicken.
---
Guadagna monete GRATIS nel Coin Store con Tapjoy!
Sapevi che puoi guadagnare GRATIS FIFA World Cup Coins? Semplicemente completando le offerte speciali di Tapjoy o guardando i video è possibile aumentare il saldo delle monete della Coppa del Mondo FIFA!
Vai al negozio FIFA World Cup nella app e vai al Coin Store. Nella parte superiore del Coin Store tocca il link che dice "GUADAGNA MONETE":
Verrai indirizzato alla pagina delle offerte che ti consente di guardare video o di completare offerte speciali sulla parete dell'offerta Tapjoy per guadagnare monete GRATIS.
Se la tua app dice "Nessun video disponibile", visita semplicemente il wall di offerta Tapjoy e poi torna al pulsante Guarda video. I tuoi video dovrebbero essere pronti per te quando torni alla pagina delle offerte. Se il muro dell'offerta ti da un messaggio che dice "Nessuna offerta disponibile", ti preghiamo di riprovare dato che il Tapjoy Offer Wall a volte ha bisogno di un po 'di tempo per trovare offerte speciali adatte a te.
Dopo aver completato con successo l'offerta speciale o aver guardato il tuo video. Puoi quindi premere il pulsante CLAIM sulla pagina Offerta per ottenere le tue monete!
Si prega di notare che alcune Offerte speciali potrebbero richiedere più tempo per la verifica rispetto ad altre, quindi alcune monete Tapjoy offrono un Wall non possono essere immediatamente disponibili per la richiesta. Controlla spesso per vedere quando sono disponibili.
Puoi anche controllare lo stato delle tue monete GRATUITE sulla pagina del Wall Offer cliccando il menu nell'angolo in alto a sinistra della pagina Wall di offerta e facendo clic su "Reward Status".
---
Заработайте бесплатные монеты в магазине монет с Tapjoy!
Знаете ли вы, что можете зарабатывать FREE FIFA World Cup Coins? Просто заполнив специальные предложения от Tapjoy или просмотрев видео, вы можете увеличить свой баланс монеты мира FIFA!
Отправляйтесь в магазин кубка мира FIFA в приложении и перейдите в магазин монет. В верхней части магазина монет нажмите ссылку, которая говорит «ЗАРАБОТАТЬ МОНЕТЫ»:
Вы будете перенаправлены на страницу «Предложения», которая позволяет либо просматривать видеоролики, либо делать специальные предложения на стенде Tapjoy Offer, чтобы заработать бесплатные монеты.
Если ваше приложение говорит «Нет доступных видео», просто зайдите на стенд предложения Tapjoy, а затем перейдите к кнопке «Смотреть видео». Ваши видео должны быть готовы для вас, когда вы вернетесь на страницу «Предложения». Если на стенде предложения вы найдете сообщение «Нет предложений в наличии», повторите попытку, так как на стенде Tapjoy Offer иногда требуется немного времени, чтобы найти специальные предложения, специально предназначенные для вас.
После успешного завершения Специального предложения или просмотра вашего видео. Затем вы можете нажать кнопку «CLAIM» на странице «Предложение», чтобы получить свои монеты!
Обратите внимание, что некоторые специальные предложения могут потребовать больше времени для проверки, чем другие, поэтому некоторые монеты с монетами Tapjoy не могут быть немедленно доступны для подачи заявки. Регулярно проверяйте, когда они доступны.
Вы также можете проверить статус своих СВОБОДНЫХ монет на странице «Предложение», нажав «Меню» в верхнем левом углу страницы «Предложение» и нажав «Статус вознаграждения».
---
Tapjoyでコインストアで無料コインを獲得しよう!
あなたは無料のFIFAワールドカップコインを獲得できることをご存知ですか? Tapjoyからスペシャルオファーを完了するか、またはWatching VideosでFIFAワールドカップコインの残高を増やすことができます!
アプリでFIFAワールドカップストアに行き、コインストアに移動します。コインストアの上部にある「EARN COINS」のリンクをタップします。
あなたは無料のコインを獲得するために、ビデオを見るか、タップジョイオファーウォールでスペシャルオファーを完了することができるオファーページに移動します。
あなたのアプリに「No Videos Available」と表示されている場合は、単にTapjoyオファー壁にアクセスして、「Watch Video」ボタンに戻るだけです。あなたのビデオは、あなたがオファーページに戻ったときに準備ができているはずです。オファー壁に「No Offers Available」というメッセージが表示された場合は、Tapjoy Offer Wallが特別なオファーを見つけるのに少し時間がかかることがありますので、もう一度お試しください。
スペシャルオファーを正常に完了した後、またはビデオを見た後。オファーページのクレームボタンを押すと、コインを獲得できます!
いくつかのスペシャルオファーは他のものよりも検証に時間がかかることがあるので、Tapjoy Offer Wallコインをすぐに請求することはできません。いつ利用可能になったかをよく確認してください。
オファーウォールページの左上隅にあるメニューをクリックして、「報酬ステータス」をクリックして、無料コインのステータスを確認することもできます。
---
Tapjoy로 코인 스토어에서 무료 동전을 적립하십시오!
무료 FIFA 월드컵 동전을 획득 할 수 있다는 것을 알고 계셨습니까? Tapjoy에서 특별 이벤트를 완료하거나 Watching Videos로 FIFA 월드컵 코인 잔액을 늘릴 수 있습니다!
앱에서 FIFA 월드컵 스토어로 가서 코인 스토어로 이동하십시오. Coin Store 상단에서 "EARN COINS"링크를 누릅니다.
비디오를 보거나 Tapjoy Offer Wall에서 특별 제안을 완료하면 무료 동전을 얻을 수있는 혜택 페이지로 이동합니다.
앱에 '사용 가능한 동영상 없음'이라고 표시되어있는 경우 Tapjoy 쿠폰 월을 방문한 다음 동영상보기 버튼으로 다시 이동합니다. 쿠폰 페이지로 돌아 가면 동영상이 준비되어 있어야합니다. 혜택 담벼락에 "No Offers Available"이라는 메시지가 나타나면 Tapjoy Offer Wall에서 때로는 특별한 제안을 찾기 위해 약간의 시간이 필요하므로 다시 시도하십시오.
특별 행사를 성공적으로 완료하거나 비디오를 본 후. 쿠폰을 받으려면 쿠폰 페이지의 견적 버튼을 누르십시오!
일부 특별 행사는 다른 것보다 확인하는 데 시간이 오래 걸리기 때문에 Tapjoy Offer Wall 코인 중 일부는 즉시 청구 할 수 없습니다. 다시 사용할 수 있는지 자주 확인하십시오.
쿠폰 월 페이지의 왼쪽 상단 모서리에있는 메뉴를 클릭하고 "보너스 상태"를 클릭하여 무료 동전의 상태를 확인할 수도 있습니다.
---
كسب العملات مجانا في متجر كوين مع Tapjoy!
هل تعلم أنه يمكنك الحصول على عملات معدنية مجانية لكأس العالم FIFA؟ ببساطة عن طريق إكمال العروض الخاصة من Tapjoy أو من خلال مشاهدة مقاطع الفيديو ، يمكنك زيادة رصيدك في كأس العالم FIFA.
توجه إلى متجر كأس العالم FIFA في التطبيق وانتقل إلى متجر العملات. في الجزء العلوي من Coin Store ، انقر على الرابط "EARN COINS":
سيتم توجيهك إلى صفحة العروض التي تتيح لك مشاهدة مقاطع الفيديو أو العروض الخاصة الكاملة على حائط Tapjoy Offer لكسب عملات معدنية مجانية.
إذا كان تطبيقك ينص على "لا توجد مقاطع فيديو متاحة" ، فما عليك سوى زيارة حائط Tapjoy Offer ثم الانتقال مرة أخرى إلى الزر مشاهدة مقاطع الفيديو. يجب أن تكون مقاطع الفيديو الخاصة بك جاهزة لك عندما تعود إلى صفحة العروض. إذا أعطاك "سور العرض" رسالة تقول "لا توجد عروض متاحة" ، يرجى المحاولة مرة أخرى حيث يحتاج جدار عرض Tapjoy أحيانًا إلى بعض الوقت للعثور على عروض خاصة تناسبك خصيصًا.
بعد الانتهاء بنجاح من عرض خاص أو مشاهدة الفيديو الخاص بك. يمكنك بعد ذلك النقر على الزر CLAIM في صفحة العرض للحصول على عملاتك المعدنية!
يرجى ملاحظة أن بعض العروض الخاصة قد تستغرق وقتًا أطول للتحقق من بعض العروض الأخرى ، لذلك قد لا تتوفر بعض القطع النقدية التي تعرضها Tapjoy Wall على الفور للمطالبة بها. التحقق مرة أخرى في كثير من الأحيان لمعرفة متى تكون متوفرة.
يمكنك أيضًا التحقق من حالة عملاتك المجانية في صفحة عرض الحوائط عن طريق النقر على القائمة في الزاوية العلوية اليسرى من صفحة عرض الحوائط والنقر على "حالة المكافأة".