Free Amethyst Pack!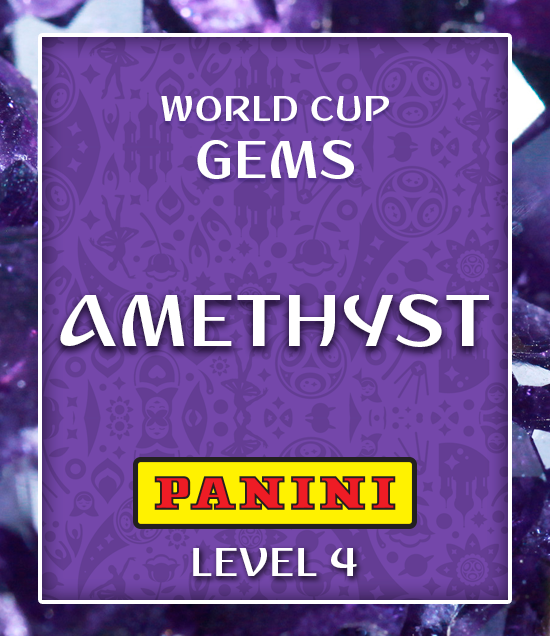 Head to the FIFA 2018 World Cup Store and claim a free Amethyst pack! The free Amethyst pack includes 1 guaranteed Amethyst level 4 variation to help start your Amethyst collection!
One free pack per user. Pack will expire on 4/20/2018
---
¡Paquete de amatista gratis!
¡Ve a la tienda de la Copa Mundial FIFA 2018 y pide un paquete de amatista gratis! ¡El paquete Amethyst gratuito incluye 1 variación garantizada de nivel 4 de Amethyst para ayudarlo a comenzar su colección Amethyst!
Un paquete gratis por usuario. El paquete caducará el 20/04/2018
---
Grátis Ametista Pack!
Dirija-se à loja FIFA 2018 World Cup e reivindique um pacote Amethyst gratuito! O pacote Amethyst gratuito inclui 1 variação garantida Amethyst de nível 4 para ajudar a iniciar sua coleção Amethyst!
Um pacote gratuito por usuário. Pack expirará em 20/4/20/20
---
Pack améthyste gratuit!
Rendez-vous au magasin de la Coupe du Monde FIFA 2018 et demandez un pack Améthyste gratuit! Le pack Améthyste gratuit comprend 1 variante Améthyste niveau 4 garantie pour vous aider à démarrer votre collection Améthyste!
Un pack gratuit par utilisateur. Le pack expirera le 20/04/2018
---
Pacchetto di ametista gratuito!
Vai al World Cup Store FIFA 2018 e richiedi un pacchetto di Amethyst gratis! Il pacchetto di Ametista gratuito include 1 variazione di livello 4 Ametista garantita per iniziare la tua collezione di Amethyst!
Un pacchetto gratuito per utente. Il pacchetto scadrà il 4/20/2018
---
Kostenlose Amethyst Packung!
Besuche den FIFA 2018 World Cup Store und erhalte ein kostenloses Amethyst-Pack! Das kostenlose Amethyst-Paket enthält 1 garantierte Amethyst Level 4-Variante, um deine Amethyst-Sammlung zu starten!
Ein kostenloses Paket pro Benutzer. Das Paket läuft am 20.04.2018 ab
---
Бесплатный пакет аметиста!
Пойдите в магазин World Cup World FIFA 2018 и получите бесплатный пакет Amethyst! Бесплатный пакет Amethyst включает в себя 1 гарантированный вариант 4 уровня аметиста, чтобы помочь вам собрать коллекцию Amethyst!
Один бесплатный пакет для каждого пользователя. Пакет истекает 20.04.2018
---
無料アメジストパック!
FIFA 2018ワールドカップストアにお越しいただき、アメジストパックを無料でご購入ください! アメジストコレクションにはアメジストレベル4のバリエーションが1つ含まれており、アメジストコレクションの開始に役立ちます。
1人のユーザーにつき1つの無料パック。 パックは1818年4月20日に有効期限が切れます
---
무료 자수정 팩!
FIFA 2018 월드컵 스토어에서 무료 Amethyst 팩을 신청하십시오! 무료 자수정 팩에는 자수정 수집을 시작하는 데 도움이되는 자수정 레벨 4 변형이 보장되어 있습니다!
사용자 당 하나의 무료 팩. 1818 년 4 월 20 일에 만료 예정
---
حزمة الجمشت مجانا!
توجه إلى متجر كأس العالم 2018 FIFA وادعي حزمة مجانية من جمشت! تتضمن حزمة Amethyst المجانية تباينًا مضمونًا في مستوى Amethyst من المستوى 4 للمساعدة في بدء مجموعة Amethyst الخاصة بك!
حزمة واحدة مجانية لكل مستخدم. ستنتهي الحزمة في 4/20/2018