Update now to dominate the World Stadiums!
With the newest FIFA World Cup Trader update, you can now use your cards to play against fellow FIFA players across the world! Battle around the world across multiple countries and thousands of stadium. Your favorite team and friends need your help! Help your favorite FIFA club the dominate the world map by using the top cards in your collection to win Stadiums in the pursuit of world domination atop the leaderboard.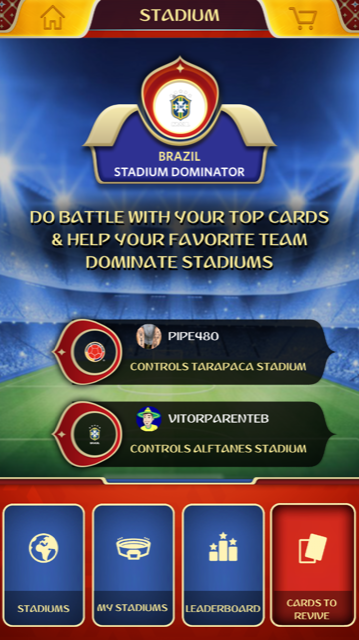 Playing is easy! Pick one of the countries around the world. Then pick one of the Zones inside the country to find a stadium to challenge. HINT – You want to challenge a zone owned by a team other than your favorite team.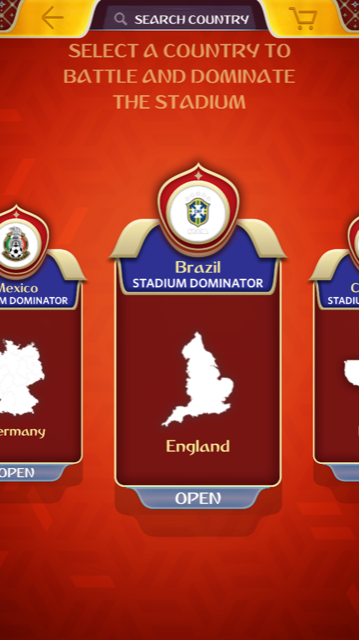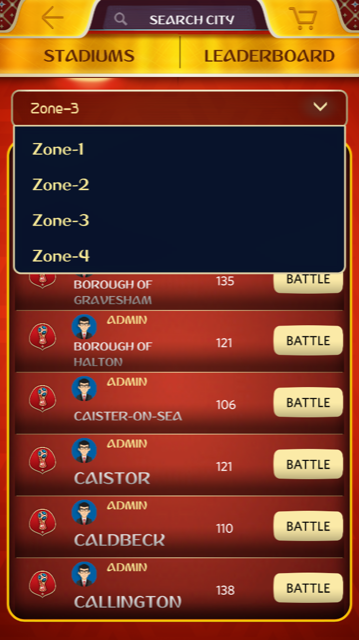 To win the Stadium you will have to battle it out with fellow FIFA users! Pick any 3 cards from your collection to challenge for ownership of the Stadium. The higher the level of your cards, the more powerful they are! Your most powerful cards are shown at the top.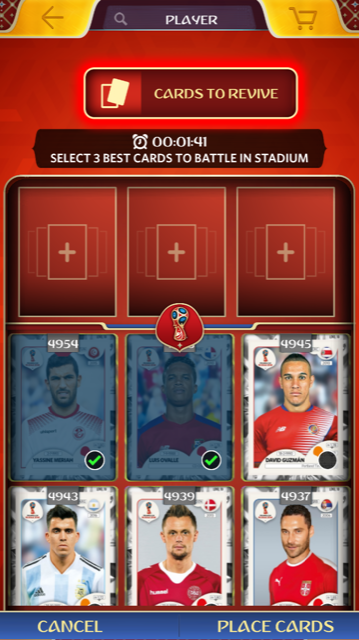 Once your cards are selected, the Pack Battle begins! Similar to the regular Pack Battles, you will compare 2 selected stats on the card and the card with the higher combined stat number wins the battle. The user that wins the most match-ups between their 3 cards wins the Stadium! The winner will remain the owner of that Stadium until they are defeated in a Stadium challenge.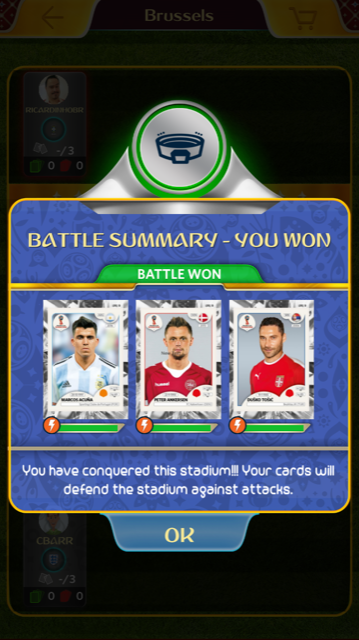 Don't worry, unlike Pack Battles, if you lose a Stadium battle you still keep your cards! However, when you lose a battle, your card's energy will be depleted. You will have to wait 24 hours for your card to replenish its energy or you can use Coins to purchase Power Ups which will restore your card to its full Energy.
There is also a Stadium leaderboard which shows how may Stadiums each FIFA World Cup Team controls. You can also keep track of how many Stadiums you own. Can you help your favorite FIFA World Cup team dominate the globe? Do you have the cards to do it? Only one way to find out!
---
¡Actualiza ahora para dominar los Estadios Mundiales!
¡Con la última actualización de Trader de la Copa Mundial de la FIFA, ahora puedes usar tus cartas para jugar contra otros jugadores de la FIFA en todo el mundo! Batalla alrededor del mundo en varios países y miles de estadios. ¡Tu equipo y amigos favoritos necesitan tu ayuda! Ayuda a tu club favorito de la FIFA a dominar el mapa mundial usando las cartas más importantes de tu colección para ganar estadios en la búsqueda de la dominación mundial en la cima.
¡Jugar es fácil! Elija uno de los países del mundo. A continuación, elija una de las zonas dentro del país para encontrar un estadio al que desafiar. SUGERENCIA: desea desafiar una zona propiedad de un equipo que no sea su equipo favorito.
¡Para ganar el Stadium tendrás que luchar con otros usuarios de FIFA! Elige 3 cartas de tu colección para disputar la propiedad del estadio. Cuanto mayor sea el nivel de tus cartas, ¡más poderosas son! Tus cartas más poderosas se muestran en la parte superior.
¡Una vez que se seleccionan tus cartas, comienza la Batalla de Paquetes! De manera similar a las Batallas de Pack regulares, compararás 2 estadísticas seleccionadas en la carta y la carta con el número de estadística combinada más alta gana la batalla. ¡El usuario que gana la mayor cantidad de enfrentamientos entre sus 3 cartas gana el Stadium! El ganador seguirá siendo el propietario de ese estadio hasta que sea derrotado en un desafío de estadio.
No te preocupes, a diferencia de Pack Battles, si pierdes una batalla en Stadium, ¡aún conservas tus cartas! Sin embargo, cuando pierdes una batalla, la energía de tu carta se agotará. Tendrás que esperar 24 horas para que tu tarjeta recargue su energía o puedes usar Monedas para comprar Power Ups lo que restaurará tu tarjeta con toda su Energía.
También hay una tabla de clasificación del estadio que muestra cómo pueden controlar los estadios todos los equipos de la Copa Mundial de la FIFA. También puede realizar un seguimiento de la cantidad de estadios que posee. ¿Puedes ayudar a tu equipo favorito de la Copa Mundial de la FIFA a dominar el mundo? ¿Tienes las cartas para hacerlo? ¡Sólo hay una forma de averiguarlo!
---
Atualize agora para dominar os Estádios do Mundo!
Com a mais nova atualização do FIFA World Cup Trader, agora você pode usar seus cartões para jogar contra outros jogadores da FIFA em todo o mundo! Batalha em todo o mundo em vários países e milhares de estádios. Seu time e amigos favoritos precisam da sua ajuda! Ajude seu clube favorito da FIFA a dominar o mapa mundial, usando os melhores cartões em sua coleção para ganhar estádios na busca do domínio mundial em cima da tabela de classificação.
Jogar é fácil! Escolha um dos países ao redor do mundo. Em seguida, escolha uma das zonas dentro do país para encontrar um estádio para desafiar. DENTE – Você quer desafiar uma zona pertencente a uma equipe diferente da sua equipe favorita.
Para ganhar o Estádio, você terá que lutar com outros usuários do FIFA! Escolha quaisquer 3 cartas da sua coleção para desafiar a posse do Estádio. Quanto maior o nível de seus cartões, mais poderosos são! Seus cartões mais poderosos são mostrados no topo.
Uma vez que seus cartões são selecionados, o Pack Battle começa! Semelhante ao regular Pack Battles, você irá comparar 2 estatísticas selecionadas no cartão e o cartão com o maior numero combinado de estatísticas ganha a batalha. O usuário que ganha o maior número de jogos entre os seus 3 cartões vence o Estádio! O vencedor permanecerá o dono desse Estádio até que eles sejam vencidos em um desafio do Estádio.
Não se preocupe, ao contrário de Pack Battles, se você perder uma batalha no estádio você ainda mantém suas cartas! No entanto, quando você perder uma batalha, a energia da sua carta será esgotada. Você terá que esperar 24 horas para o seu cartão para reabastecer sua energia ou você pode usar Moedas para comprar Power Ups, que irá restaurar seu cartão para sua energia total.
Existe também uma tabela de classificação do estádio que mostra como os Estádios que cada equipe da Copa do Mundo da FIFA controla. Você também pode acompanhar quantos estádios você possui. Você pode ajudar sua equipe favorita da Copa do Mundo da FIFA a dominar o globo? Você tem os cartões para fazer isso? Só há uma maneira de descobrir!
---
Mettez à jour maintenant pour dominer les stades du monde!
Avec la dernière mise à jour de la FIFA World Trader, vous pouvez désormais utiliser vos cartes pour affronter d'autres joueurs de la FIFA à travers le monde! Bataille autour du monde à travers plusieurs pays et des milliers de stade. Votre équipe préférée et vos amis ont besoin de votre aide! Aidez votre club préféré de la FIFA à dominer la carte du monde en utilisant les meilleures cartes de votre collection pour gagner des stades dans la poursuite de la domination mondiale au sommet du classement.
Jouer est facile! Choisissez l'un des pays du monde. Ensuite, choisissez l'une des zones à l'intérieur du pays pour trouver un stade à défier. ASTUCE – Vous souhaitez défier une zone appartenant à une équipe autre que votre équipe favorite.
Pour gagner le stade, vous devrez vous battre avec les autres utilisateurs de la FIFA! Choisissez 3 cartes de votre collection pour défier la propriété du stade. Plus le niveau de vos cartes est élevé, plus elles sont puissantes! Vos cartes les plus puissantes sont affichées en haut.
Une fois vos cartes sélectionnées, le Pack Battle commence! Comme pour les batailles normales, vous allez comparer 2 statistiques sélectionnées sur la carte et la carte avec le plus haut chiffre combiné gagne le combat. L'utilisateur qui remporte le plus de matchs entre ses 3 cartes remporte le Stadium! Le gagnant restera le propriétaire de ce stade jusqu'à ce qu'il soit défait dans un défi de stade.
Ne vous inquiétez pas, contrairement aux Pack Battles, si vous perdez une bataille de Stadium, vous gardez vos cartes! Cependant, lorsque vous perdez une bataille, l'énergie de votre carte sera épuisée. Vous devrez attendre 24 heures pour que votre carte reconstitue son énergie ou vous pouvez utiliser des pièces pour acheter des Power Ups qui restitueront votre carte à sa pleine énergie.
Il y a aussi un classement du stade qui montre comment les stades de chaque équipe de la Coupe du Monde de la FIFA peuvent contrôler. Vous pouvez également suivre le nombre de stades que vous possédez. Pouvez-vous aider votre équipe favorite de la Coupe du Monde de la FIFA à dominer le monde? Avez-vous les cartes pour le faire? Qu'une seule façon de le savoir!
---
Aggiorna ora per dominare gli Stadi del mondo!
Con l'ultimo aggiornamento di FIFA World Cup Trader, ora puoi usare le tue carte per giocare contro altri giocatori FIFA in tutto il mondo! Combatti in tutto il mondo attraverso più paesi e migliaia di stadi. La tua squadra e i tuoi amici preferiti hanno bisogno del tuo aiuto! Aiuta il tuo club FIFA preferito a dominare la mappa del mondo utilizzando le prime carte della tua collezione per vincere Stadi alla ricerca del dominio del mondo in cima alla classifica.
Giocare è facile! Scegli uno dei paesi in tutto il mondo. Quindi scegli una delle Zone all'interno del paese per trovare uno stadio da sfidare. SUGGERIMENTO: vuoi sfidare una zona di proprietà di una squadra diversa dalla tua squadra preferita.
Per vincere lo stadio dovrai sfidarlo con gli altri utenti della FIFA! Scegli 3 carte dalla tua collezione per contestare la proprietà dello Stadio. Più alto è il livello delle tue carte, più potenti sono! Le tue carte più potenti sono mostrate in alto.
Una volta selezionate le tue carte, inizia la Pack Battle! Analogamente alle normali battaglie a pacchetto, confronterai 2 statistiche selezionate sulla carta e la carta con il numero di combinazione più alto vince la battaglia. L'utente che vince il maggior numero di abbinamenti tra le 3 carte vince lo stadio! Il vincitore rimarrà il proprietario di quello stadio fino a che non saranno sconfitti in una sfida allo stadio.
Non preoccuparti, a differenza di Pack Battles, se perdi uno scontro a Stadium, tieni comunque le tue carte! Tuttavia, quando perdi una battaglia, l'energia della tua carta sarà esaurita. Dovrai attendere 24 ore affinché la tua carta ricostituisca la sua energia o puoi usare le monete per acquistare potenziamenti che ripristineranno la tua carta fino alla sua piena energia.
C'è anche una classifica dello stadio che mostra come possono controllare gli Stadi ogni squadra della Coppa del Mondo FIFA. Puoi anche tenere traccia di quanti Stadi possiedi. Puoi aiutare la tua squadra preferita della Coppa del Mondo FIFA a dominare il mondo? Hai le carte per farlo? Solo un modo per scoprirlo!
---
Update jetzt, um die World Stadien zu dominieren!
Mit dem neuesten FIFA World Cup Trader-Update können Sie jetzt Ihre Karten verwenden, um gegen andere FIFA-Spieler auf der ganzen Welt zu spielen! Kämpfe um die Welt in mehreren Ländern und tausenden von Stadien. Ihr Lieblings-Team und Freunde brauchen Ihre Hilfe! Helfen Sie Ihrem Lieblings-FIFA-Klub, die Weltkarte zu dominieren, indem Sie die besten Karten in Ihrer Sammlung verwenden, um Stadien auf der Rangliste der Weltherrschaft zu gewinnen.
Das Spielen ist einfach! Wählen Sie eines der Länder auf der ganzen Welt. Dann wähle eine der Zonen innerhalb des Landes, um ein Stadion zu finden, das du herausfordern kannst. TIPP – Sie möchten eine Zone herausfordern, die einem anderen Team als Ihrem Lieblingsteam gehört.
Um das Stadion zu gewinnen, musst du dich mit anderen FIFA-Spielern messen! Wähle aus deiner Sammlung 3 Karten aus, um den Status des Stadions herauszufordern. Je höher das Level deiner Karten ist, desto mächtiger sind sie! Ihre stärksten Karten werden oben angezeigt.
Sobald Ihre Karten ausgewählt sind, beginnt der Pack Battle! Ähnlich wie bei regulären Pack Battles vergleichen Sie 2 ausgewählte Stats auf der Karte und die Karte mit der höheren kombinierten Stat-Zahl gewinnt den Kampf. Der Spieler, der die meisten Match-Ups zwischen seinen 3 Karten gewinnt, gewinnt das Stadion! Der Gewinner bleibt der Besitzer dieses Stadions, bis er in einer Stadion-Herausforderung besiegt wird.
Mach dir keine Sorgen, im Gegensatz zu Pack Battles, wenn du einen Stadionkampf verlierst, behältst du immer noch deine Karten! Wenn du jedoch einen Kampf verlierst, wird die Energie deiner Karte aufgebraucht. Du musst 24 Stunden warten, bis deine Karte ihre Energie wieder aufgefüllt hat, oder du kannst Münzen verwenden, um Power Ups zu kaufen, die deine Karte auf ihre volle Energie zurückbringen.
Es gibt auch eine Stadion-Rangliste, die zeigt, wie viele Stadien jedes FIFA WM-Team steuern darf. Sie können auch verfolgen, wie viele Stadien Sie besitzen. Können Sie Ihrem Lieblings-FIFA-WM-Team helfen, den Globus zu dominieren? Hast du die Karten dafür? Nur eine Möglichkeit, das herauszufinden!
---
Обновите теперь, чтобы доминировать на мировых стадионах!
С новейшим обновлением FIFA World Cup Trader теперь вы можете использовать свои карты для игры против других игроков FIFA по всему миру! Битва по всему миру через несколько стран и тысячи стадионов. Ваша любимая команда и друзья нуждаются в вашей помощи! Помогите своему любимому клубу ФИФА доминировать на карте мира, используя верхние карты в своей коллекции, чтобы выиграть стадионы в погоне за мировым господством на вершине лидеров.
Играть легко! Выберите одну из стран по всему миру. Затем выберите одну из зон внутри страны, чтобы найти стадион для вызова. СОВЕТ. Вы хотите бросить вызов зоне, принадлежащей команде, отличной от вашей любимой команды.
Чтобы выиграть стадион, вам придется сразиться с другими пользователями FIFA! Выберите любые 3 карты из своей коллекции, чтобы бросить вызов для участия в Стадионе. Чем выше уровень ваших карт, тем они мощнее! Самые мощные карты показаны вверху.
Как только ваши карты будут выбраны, начнется битка Pack! Как и в обычных битвах с битками, вы сравниваете 2 выбранные данные на карте, а карта с более высоким комбинированным статусом выигрывает битву. Пользователь, который выигрывает большинство матчей между их 3-мя картами, выигрывает стадион! Победитель останется владельцем этого стадиона, пока они не будут побеждены в стадионе.
Не волнуйся, в отличие от «Пакет битв», если ты проиграешь битву в Стадион, ты все равно держишь свои карты! Однако, когда вы проиграете битву, энергия вашей карты будет истощена. Вам придется подождать 24 часа, чтобы ваша карта пополнила свою энергию, или вы можете использовать монеты для покупки Power Ups, которая восстановит вашу карту до полной энергии.
Существует также таблица лидеров стадиона, в которой показано, как можно управлять стадионами каждой команды чемпионата мира ФИФА. Вы также можете отслеживать, сколько у вас Стадионов. Можете ли вы помочь своей любимой команде чемпионата мира по футболу доминировать в мире? У вас есть карты, чтобы сделать это? Есть только один способ выяснить!
---
今すぐアップデートしてワールドスタジアムを支配しましょう!
最新のFIFAワールドカップトレーダーのアップデートでは、あなたのカードを使って世界中のFIFA選手と対戦することができます!複数の国や数千のスタジアムで世界中で戦うあなたの好きなチームやお友達があなたの助けを必要とします!あなたの好きなFIFAクラブがあなたのコレクションの一番上のカードを使って世界地図を支配するのを助けて、リーダーボードの上の世界支配の追求のためにスタジアムを獲得してください。
遊ぶのは簡単です!世界中の国を選択してください。その後、国内のゾーンの1つを選んで挑戦するスタジアムを見つけます。ヒント – あなたが好きなチーム以外のチームが所有するゾーンに挑戦したい。
スタジアムに勝つためには、FIFAのユーザーと戦わなければなりません!あなたのコレクションから3枚のカードを選んでスタジアムのオーナーシップに挑戦してください。あなたのカードのレベルが高いほど、より強力です!最も強力なカードが一番上に表示されます。
あなたのカードが選択されると、Pack Battleが始まります!通常のPack Battlesと同様に、カードとカードの2つの選択された統計値を比較し、合計の統計番号が高いほど戦闘に勝ちます。 3枚のカードの中で最もマッチアップしたユーザーがスタジアムに勝ちます!優勝者は、スタジアムチャレンジで敗北するまで、そのスタジアムのオーナーとして残ります。
Pack Battlesとは違って心配しないでください。スタジアムの戦いを失った場合でも、あなたはカードを保持しています!しかし、あなたが戦闘を失うと、カードのエネルギーがなくなります。あなたのカードがエネルギーを補充するためには24時間待たなければなりません。また、コインを使ってパワーアップを購入することもできます。
スタジアムには、どのFIFAワールドカップチームがどのようにコントロールできるかを示すスタジアムのランキングがあります。あなたはあなたが所有するスタジアムの数を記録することもできます。お気に入りのFIFAワールドカップチームが世界を支配するのを手助けすることはできますか?それをするカードはありますか?見つけ出す方法は1つだけです!
---
월드 스타디움을 지배하기 위해 지금 업데이트하십시오!
최신 FIFA 월드컵 상인 업데이트를 통해 이제 전 세계 동료 FIFA 플레이어와 게임을 할 수 있습니다. 여러 국가와 수천 개의 경기장에서 전 세계와 전투를 벌일 수 있습니다. 좋아하는 팀과 친구들이 도움을 필요로합니다! 리더 보드 상단에있는 세계 지배를 위해 스타디움에서 우승 할 수 있도록 컬렉션에있는 최상위 카드를 사용하여 좋아하는 FIFA 클럽이 세계지도를 지배하도록 도와주세요.
노는 것은 쉽습니다! 전 세계 국가 중 하나를 선택하십시오. 그런 다음 국가 안의 구역 중 하나를 선택하여 도전 할 경기장을 찾으십시오. 힌트 – 좋아하는 팀이 아닌 다른 팀이 소유하고있는 영역에 도전하고 싶습니다.
스타디움에서 우승하려면 FIFA 사용자들과 싸워야합니다! 컬렉션에서 3 장의 카드 중 하나를 골라서 경기장 소유권에 도전하십시오. 카드의 레벨이 높을수록 더 강력합니다! 가장 강력한 카드가 맨 위에 표시됩니다.
카드가 선택되면 팩 전투가 시작됩니다! 일반 Pack Battles와 마찬가지로, 카드와 카드에있는 두 개의 선택된 통계를 비교하여 합계가 높은 합계가 전투에서 승리합니다. 3 장의 카드 중 가장 많은 승패를 얻은 사용자가 스타디움에서 우승합니다! 승자는 경기장 도전에서 패할 때까지 해당 경기장의 소유자가됩니다.
Pack Battles와는 달리 걱정하지 마십시오. Stadium 전투에서 패한다면 여전히 카드를 가지고 있습니다! 그러나 전투에서 패하면 카드의 에너지가 소진됩니다. 카드가 에너지를 보충 할 때까지 24 시간을 기다려야하며, 동전을 사용하여 파워 업을 구입하면 카드를 전체 에너지로 복원 할 수 있습니다.
또한 각 경기장마다 FIFA 월드컵 팀이 어떻게 경기를 할 수 있는지 보여주는 경기장 리더 보드가 있습니다. 또한 얼마나 많은 경기장을 보유하고 있는지 추적 할 수 있습니다. 좋아하는 FIFA 월드컵 팀이 지구를 지배하도록 도울 수 있습니까? 카드를 가지고 있습니까? 알아내는 유일한 방법!
---
تحديث الآن للسيطرة على الملاعب العالمية!
مع تحديث FIFA World Cup Cup ، يمكنك الآن استخدام بطاقاتك للعب ضد لاعبي FIFA الآخرين في جميع أنحاء العالم! معركة في جميع أنحاء العالم عبر عدة بلدان وآلاف الاستاد. فريقك المفضل والأصدقاء بحاجة لمساعدتكم! ساعد نادي FIFA المفضل لديك على الهيمنة على خريطة العالم من خلال استخدام أفضل البطاقات في مجموعتك للفوز بالملاعب في السعي وراء الهيمنة على مستوى العالم على لائحة المتصدرين.
اللعب سهل! اختر واحدة من البلدان حول العالم. ثم اختر واحدة من المناطق داخل البلد للعثور على ملعب للطعن فيه. HINT – أنت تريد تحدي منطقة يملكها فريق غير فريقك المفضل.
للفوز بالملعب ، سيكون عليك خوض المعركة مع زملائه من مستخدمي FIFA! اختر أي 3 بطاقات من مجموعتك للطعن في ملكية الاستاد. كلما ارتفع مستوى البطاقات الخاصة بك ، وأكثر قوة هم! تظهر أقوى بطاقاتك في الأعلى.
بمجرد اختيار البطاقات ، تبدأ حزمة Pack! وكما هو الحال مع لعبة Pack Battles العادية ، ستقارن بين إحصائين محددين على البطاقة وستفوز البطاقة ذات الرقم الإحصائي المدمج العالي بالمعركة. يفوز المستخدم الذي يفوز بأكبر عدد من المباريات بين أوراقه الثلاثة في الاستاد! سيبقى الفائز مالك هذا الملعب حتى يتم هزيمتهم في ملعب التحدي.
لا تقلق ، بخلاف Pack Battles ، إذا خسرت معركة في الملعب ، فأنت ما زلت تحتفظ ببطاقاتك! ومع ذلك ، عندما تخسر معركة ، سيتم استنزاف طاقة بطاقتك. سوف تضطر إلى الانتظار لمدة 24 ساعة لبطاقتك لتجديد طاقتها أو يمكنك استخدام العملات المعدنية لشراء شكا من السلطة التي ستستعيد بطاقتك إلى طاقتها الكاملة.
هناك أيضاً لوحة قيادة في الملعب والتي توضح كيف يمكن للملعب أن يسيطر على كل فريق في كأس العالم FIFA. يمكنك أيضًا تتبع عدد الملاعب التي تملكها. هل يمكنك مساعدة فريقك المفضل في كأس العالم FIFA على السيطرة على الكرة الأرضية؟ هل لديك بطاقات للقيام بذلك؟ فقط طريق واحد لتجد المخرج!